The Attitude era– a time which shaped many of my generation, changed the course of professional wrestling and ultimately (and unfortunately) paved the way for the WWF to become the monopoly in "sports entertainment"
When i'm asked "what's your favourite attitude era moment" I hate it– there are SO MANY and always up there in my thinking is the infamous 6 Man Hell in a Cell at Armageddon 2000.
So that's where we're going to start our new feature– looking at some of the most iconic PPV's, Matches and moments from the WWF & WWE.
The End is Here
The opening video shows all kind of destruction set to the harrowing sounds of "The End" by WWE composer Jim Johnston. The song sets up a feeling of actual Armageddon, as a 12 year old kid, I thought that the word was actually coming to an end and this match was the most important thing in my world at the time.
The controversy this match caused during the build up was unprecedented– so much that prior to Armageddon, on Sunday Night Heat; Foley promised that if there was a major injury he would resign as Commissioner.
Hardy Boys/Lita vs. Radicalz
Radicalz are Saturn, Malenko and Guerrero and this is under elimination rules. This is because Malenko, a ladies man at the time, won a date with Lita due to beating her in a Light Heavyweight Title match. It also resulted in Lita looking AMAZING in white bra and panties. Matt & Jeff made the save in the bedroom with a champagne bottle to the head of Malenko followed by a swift shot with a lamp– JR meanwhile ridicules Malenko for wearing socks in bed.
Rating: 2* Not a bad kick off to the night but a lot of fans thought this match should have been Dean vs. Lita without the other four guys.  it was fast paced enough to get a good flow going– Seeing Lita match up Malenko and give him a run for his money was the highlight.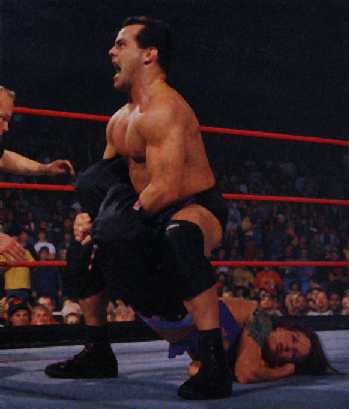 European Title: Hardcore Holly vs. William Regal
Regal was the goodwill ambassador of the WWF and dispite his ill placed manners, was reviled by fans for the majority of his career– He makes some cheap Alabama jokes but gets cut off by Hardcore Holly.
Rating: 1.5* Seems like a filler match, lasted less than 5 minutes and certainly didn't light any fires in the arena or for the viewers at home. highlight was probably seeing how red Regal's chest could get by the end of the match– ended with the strongest DDT in the history of professional wrestling by Raven for Holly to pick up the win.
Chyna vs. Val Venis
Ahhh Right to Censor– possibly the worst stable in wrestling history. The feud was ignited because of Chyna's appearance in Playboy; the RTC would obviously take issue with this. They were a parody of the PTC which is an organisation that hates TV because it's supposedly evil and corrupts kids.
Rating: 1.5* This was a  bit of a TV match here and not a great one. Venis picks up the victory and Powerbombs Chyna for her troubles.
The blow out would come at WrestleMania XVII where Chyna destroyed Ivory within a couple of minutes to win the Women's Title– R.I.P Chyna.
Kane vs. Chris Jericho
This is a last man standing match. and a pretty decent one– The story behind this feud was started when Jericho spilt some coffee on Kane, later its revealed that Kane actually hates Jericho because of his "pretty boy" persona– talk about bitter.
Rating: 3.5* Overall a good match, better than the matches which preceded it. The match was well balanced with Jericho never being beaten down long enough to make his comeback unrealistic– The finish was big with Jericho crushing the Big Red Machine with a wall of oil drums to keep him down for the count.
We then cut to HBK at WWF New York and he is pretty wasted. He can barely talk and picks Undertaker to win the match tonight.
Tag Titles: Edge and Christian vs. Right to Censor vs. Dudley Boyz vs. K-Kwik/Road Dogg
Rating: 1.5* This match had a lot of potential but ended up as a total mess here with no need to have Road Dogg and K-Kwik participating, they just made things too complicated and seems like they were filler for the Hardyz who participated in the pointless opening bout– Edge and Christian picked up the victory as Christian delivers the Unprettier on Bubba Ray for Edge to get the 3 count.
Intercontinental Title: Chris Benoit vs. Billy Gunn
A Bizarrely high position on the match card for this one, one of the ever revolving carousel of Intercontinental Championship matches in this era wont remember this match particularly fondly.
Rating: 1.5* Even with Benoit in there this was bad. Gunn was just so average most of the time and this was no exception. He was botching stuff all over the place, he wouldn't sell the knee and the ending was just out of left field because he wouldn't sell.
Thankfully though they got the belt off of him and Benoit would move on to Jericho and then Angle, so all was right with the world.
Women's Title: Molly Holly vs. Ivory vs. Trish Stratus
Ivory steals the pin. This barely broke two minutes. T&A comes out to go after Molly but Crash and the APA, who T&A had injured, returns for the big beatdown.
Rating: 0.5* Why this is so high up the card is a mystery to all.
Rock talks about being ready to do whatever it takes to win the match– speaking of which, now would be a good time to take a look at his epic promo from Raw is War the previous week.
WWF Title: HHH vs. The Rock vs. Undertaker vs. Steve Austin vs. Rikishi vs. Kurt Angle
So the story arc which took up the majority of the year 2000 was about to come to fruition with the 6 man hell in a cell match, there were only two expectations–  Kurt Angle would lose the belt and someone would take a long ride from the top of the cell.
Rating: 4.5* This was a great match, the first half was pretty slow until Vince and his associates rip the cage door off with a tow truck. Then all hell breaks loose. Rikishi takes the ride from the top of cell into the back of the tow truck, Kurt ends up taking the win by getting an arm over the rock after a Triple H pedigree.

Still, an enjoyable event which saw out one the year into 2001 which is arguably one of the most important years in WWE history.
Keep in touch with Boomslang for more wrestling content, don't forget to follow us on social media too.
What do you think? Leave a comment below!